The BFM® fitting is a revolutionary, snap-in, flexible connector and spigot
that eliminates problems associated with traditional hose clamp connections.
BFM®s patented connectors provide superior performance:
100% sealed, no mess, no leaks

Seals tighter under pressure

No product build-up means better hygiene

No tools required for fitting

Snap-in design makes installation easy

Standardised connector sizes mean you need to keep less stock
What sizes do they come in?

BFM® spigots and connectors are available in a variety of diameters in 50mm (2") increments, from 100mm (4") up to 1,650mm (65").

Most of our connectors are available in lengths starting at 80mm (3"), then in 50mm (2") increments from 100mm (4") up to 6 metres (19ft 8").
(Note: for larger diameters from 700mm (27.5") upwards, certain length restrictions apply).
What are BFM® connectors made from?
BFM® fitting manufactures a range of patented products available in a variety of materials:
How is BFM® fitting used?
The BFM® fitting is used in a wide variety of applications involving dry dust or powders to supersede old hose clamped systems:
Vibrating & oscillating sifters

Conveyors & Feeders

Fans

Baghouses

Silos & bin inlet & outlets

Cyclones

Blenders

Vibro tubes

Rotary valves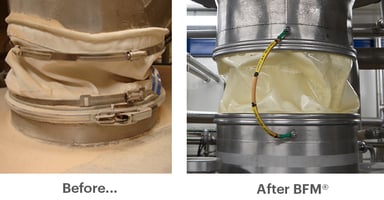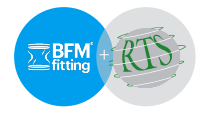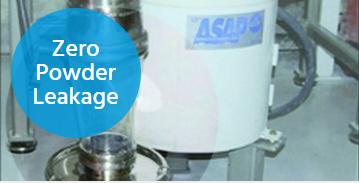 Download BFM® fitting Brochure
Need more info? Jonathan is at the ready to answer your questions.